НОРВЕЖСКОЕ МОРЕ (NORVEZHSKOYE MORE)
AMOF-Fjell is proud to announce that the 2. vessel NORVEZHSKOYE MORE is ready for its sea trail. The NORVEZHSKOYE MORE is the second vessel of Arkhangelsk Trawl Fleet – 4 off fishing vessels (stern trawlers).
AMOF-Fjell have delivered the complete fishmeal factory and is now ready to produce good quality fishmeal and fish oil. Commissioning and system checkout is completed and specialists from AMOF-Fjell goes onboard for its sea trail to fine tune the factory and to pass on knowledge to the operators onboard.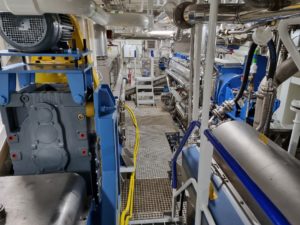 The AMOF-Fjell fishmeal plant converts fish waste to valuable nutritional products on board fishing trawlers. "The world needs more marine protein and nutrients. Our compact plant helps to increase the
Read More »