Our 16th. Compact Fishmeal Plant CFP-60 is delivered.
AMOF-Fjell Process Technology has a long history of designing, manufacturing, installing, and commissioning Compact Fishmeal Plant for on-board fishing vessels. Our 16th. Compact Fishmeal Plant CFP-60 is now tested and delivered to customer. The plant has a capacity of 60tons pr. day of residual raw material (head, trimmings, and gut), and will produce high quality marine proteins and fish oil. The trawler is designed by VARD (Design 8 04) and was built at Vard Vung Tau.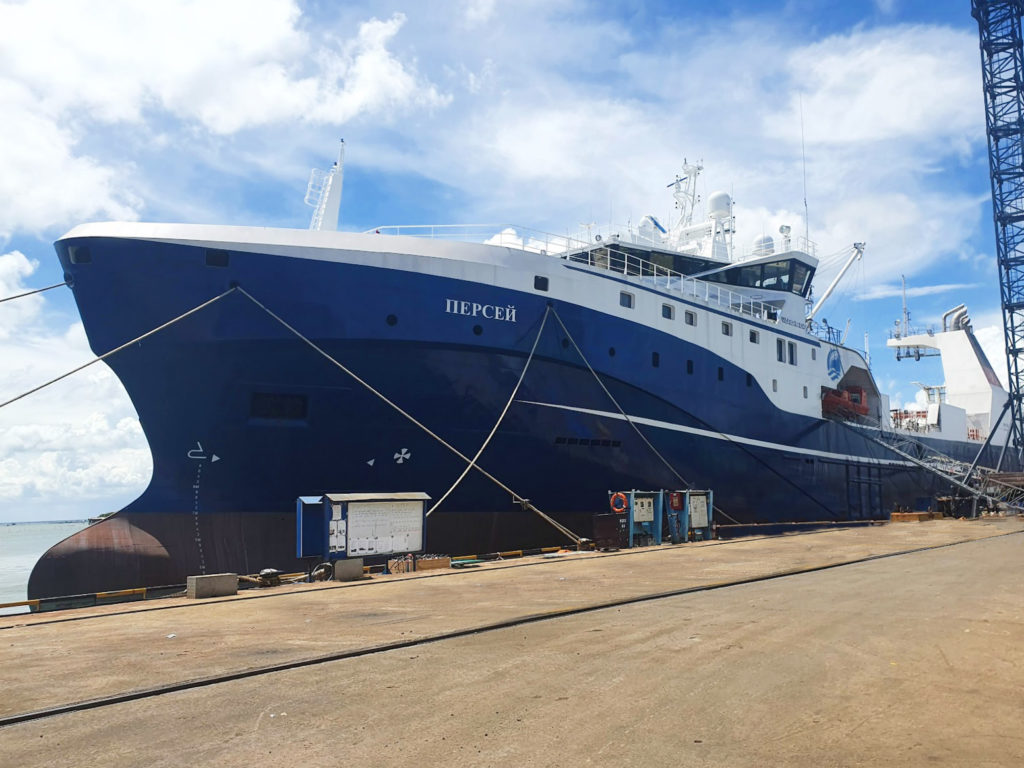 VARD (Design 8 04) and was built at Vard Vung Tau
AMOF-Fjell Compact Fishmeal Plant
for more information on Compact Fishmeal Plants. Download datasheet:
AMOF-Fjell Compact Fishmeal Plants
---
Functional Description
Fish offal must be pre-treated in a way that limits the amount of free water from processing and transport in the fish factory and be coarsely ground to avoid large heads and bones, not mashed to pulp, before it is sent to the raw material hopper (storage tank not part of scope).
From this tank the material is conveyed by a screw conveyor or a suitable pump to the screw cooker.
The screw cooker is designed as a large slowly rotating screw conveyor with steam heated outer pipe and hollow steam heated flighting allowing heating of the raw material to about 90°C to secure complete coagulation. Additional straining of free water is recommended if screw conveyor is used.
Coagulated material is directed by means of one or two screw conveyors (depending upon final lay-out and available height) to the twin screw press. Again additional straining (in strainer conveyor or separate strainer) will be required to minimise amount of free liquid water to the press, which may otherwise prevent complete pressing.
The twin screw press consists of two counter rotating screws with conical shaft so that available volume between screws and the casing is gradually reduced. The casing is perforated so that liquid is squeezed out, and the press cake is dropped or conveyed directly into the dryer.
The liquid from the press is directed to the press liquid tank together with liquids from the strainer or strainer conveyors. From this tank the liquid is pumped into the tricanter, which in one single step by means of centrifugal force is able to separate the liquid in a pulp containing the suspended solids, stick water consisting of water with water soluble proteins, and high grade fish oil. The pulp is conveyed to the dryer, the stick water is discharged to sea, and oil is pumped to a suitable oil storage tank.
The dryer consists of a steam heated jacket (optional) and an internal rotor with steam heated hollow discs. The mixture of press cake and tricanter pulp is heated to the boiling point, and water evaporates as the material is gradually transported to the outlet of the dryer my means of agitators installed on the tip of the discs. The combination of gentle rotation and evaporations result in a fishmeal with approx. 10 % residual water.
Vapour from the dryers is drawn out and treated in a seawater scrubber together with ventilation air and vapour from the other process equipment. (optional)
Warm and bony fish meal is conveyed in one or two conveyors to the milling plant.
The milling plant converts the meal to a homogenous powder.
After milling the meal is conveyed to the meal silo, which serves as the main reservoir for bagging. Transport may be by means of cooling screw conveyors or pneumatic system.