Crab meal processing plant
AMOF-Fjell delivered a complete crab meal processing plant to NutriShell in 2021.
The factory is located beside the factory of Hitramat (Europes biggest crab processing plant). Raw material is processed directly after Hitramat's process (super fresh) and results in a high-quality product. The plant delivered by AMOF-Fjell processes crab shell and proteins by drying, milling and packing in big bag. 
The video shows dried crab shells on drier outlet conveyor, and are transported into our milling plant for further processing. 
Dried and coarsely grinded crab shells.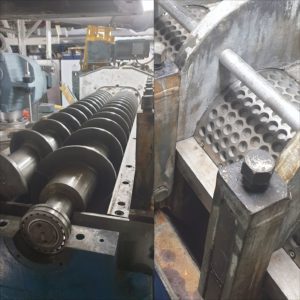 "Recently, service technicians from AMOF Fjell Process Technology AS paid a visit to a trawler to carry out maintenance on a press that was part of our previously delivered compact fishmeal plant (CFP). After a decade of continuous operation, our double-screw press received an upgrade with new screws, a fresh
Read More »