The AMOF-Fjell fishmeal plant converts fish waste to valuable nutritional products on board fishing trawlers. "The world needs more marine protein and nutrients. Our compact plant helps to increase the yield of these much-needed products," says Ørjan Jansen, Project Manager at AMOF-Fjell Process Technology.

One in three fish caught around the world is either dumped overboard or rots before it can be eaten. "Many fishers are throwing away valuable marine resources. They are also losing money and polluting the marine environment that they depend on," says Jansen.

High-quality fishmeal and fish oil
The AMOF-Fjell compact fishmeal processing plant produces fishmeal and fish oil from residual raw materials on fishing trawlers. This includes both fish waste and commercially nonviable fish caught in the trawling process. The products are then sold for various applications. "Our onboard plant typically processes 50–250 metric tons of fish heads, tails, viscera and offcuts per day. This is substantial capacity for such a compact design like ours," explains Jansen.

When produced on the vessel, the end-products are a fresh as possible. Fish residuals are processed within one to two hours of catch, and bacteria are eliminated with heat. "High quality matters in the marketplace. Take fish oil, for instance. You could drink it directly from our plant. This shows how clean it is. Then it's sold for further purification and commercialisation," says Jansen.
The plant consists of a cooker, press, separator, dryer and meal handling system. Fishmeal and fish oil are produced in the same, continuous process. Compact in size, the plant can be fitted on small as well as large trawlers. The plants are custom designed for both newbuilds and existing vessels.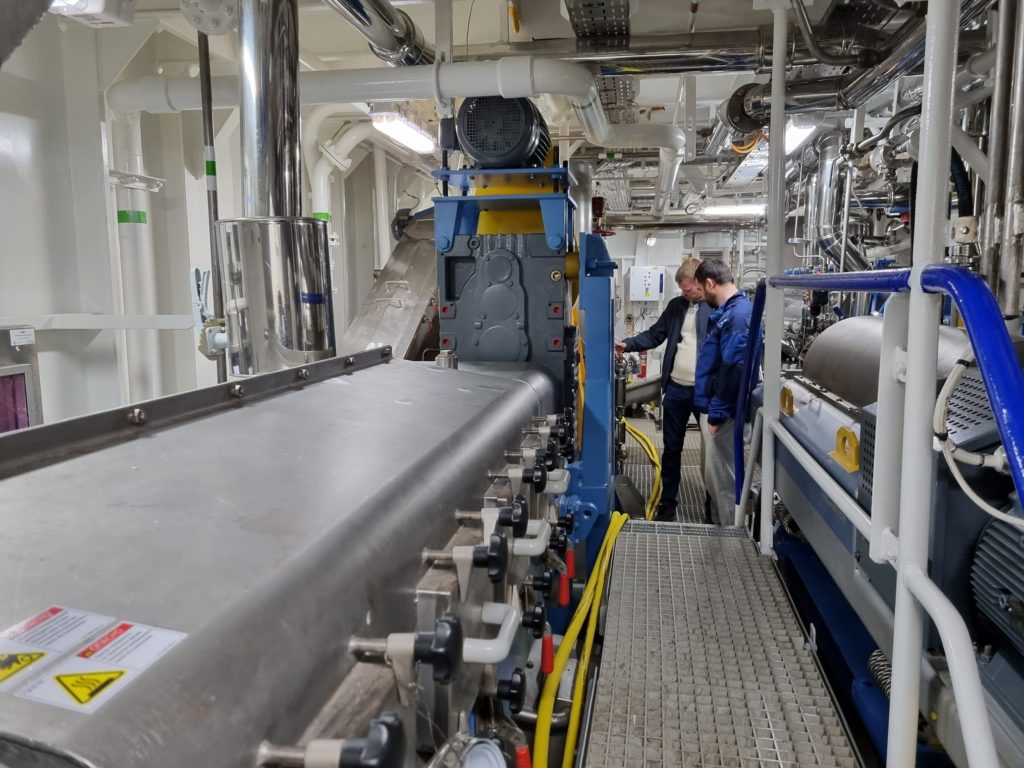 Low-energy production process
The AMOF-Fjell fishmeal plant boost profits for fishing trawlers. "Prices fluctuate all the time, but in Europe, fishmeal from an onboard plant sells for about one euro per kilo and fish oil brings in about two euros per litre," says Jansen. This is the money that fishers used to throw overboard or pay to dispose of. In addition, the power to run the plant comes from the propulsion engines. This is "free" energy in the form of heat that would otherwise be lost to the atmosphere. As a result, fishers reduce their fuel consumption and operating costs."Ultimately, our plant increases sustainability and circularity in fishing operations," says Jansen. "It reduces trawlers' environmental footprint. It also promotes circularity by reusing fish resources and waste heat."

Demand for high-quality protein
Fish is human's most important single source of high-quality protein. As the world population grows, the demand for fish and fish products will continue to rise. The market for fish oil alone is expected to reach USD 2.8 billion by 2027.
"Vessel owners recognise that consumers are more health conscious and environmentally aware. They also anticipate stricter environmental regulations in the future," says Jansen.
AMOF-Fjell's compact fishmeal plants are already installed on board trawlers in Canada, the Faroe Islands, New Zealand, Norway and Russia. The same technology can be used for crab processing, and its first crab meal processing plant was delivered to NutriShell in 2021.
A process and engineering company, AMOF-Fjell develops and delivers custom-made processing plants for various onshore and offshore industries worldwide. These include wastewater evaporation plants and sludge treatment plants.